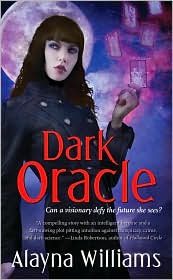 Tara is a former criminal profiler, current recluse, who used her skills with a deck of Tarot cards to help catch killers. Unfortunately, one serial killer caught her, leaving her scarred and not so keen on being around people. An old family friend, who is part of a secret society of women, tracks her down and asks her to help find a missing scientist. This is pretty cool urban fantasy because it also throws in science, secret military facilities, a government conspiracy, and a charming Agent Harry Li. I will definitely read the second book in this series, Rogue Oracle. Alayna Williams is a pseudonym used by Laura Bickle. Go to her website
here
. I've met Laura / Alayna a couple times and she's super nice and encouraging to aspiring authors.
I love the blog Forever YA and they often cast actors in the main roles of books they review. When I was reading this I couldn't help but picture a couple actors as characters.
Rose McGowan as Tara Sheridan - Maybe it's all the Charmed I watched this spring. I've liked Rose since I was in high school and saw Scream.
John Cho as Agent Harry Li - He's Harold, he's Sulu, and he's awesome! He also guest starred in a season one episode of Charmed. Huh!