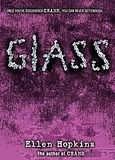 Glass by Ellen Hopkins continues Kristina's struggle with drug addiction. The story picks up about three months after her son's birth. She falls back into drug use and is still searcing for unconditional love. Even though this story is sad and I really want to slap Kristina throughout the book, it is so gripping I couldn't stop reading. This one ends on a cliff hanger and I want Ellen Hopkins to write another volume about these characters. Do you hear that Ellen? PLEASE!
Neverwhere by Neil Gaiman is an AWESOME book. Richard leads a hum-drum life, going to work and dealing with his fiancee (who I though was an annoying person). On their way to dinner one night, Richard notices an imjured girl in the road and insists on helping her ruining the annoying fiancee's plans for dinner with her boss. The injured girl is a resident of London Below, a magical place full of interesting and terrifying characters. This book is perfect for people who enjoy stories such as Alice's Adventures in Wonderland and Un Lun Dun.

The Stupidest Angel by Christopher Moore is hillarious. Pine Cove, CA has many quirky residents that we meet in this story. As Christmas approaches, an angel arrives to grant a child's wish. Unfortunately, the angel's work is somewhat sloppy and his attempt at wish granting culminates in a zombie attack. I do believe Christopher Moore may be one of my favorite authors.